Vapor World is back at it again with the upgraded version of the popular Palm Fit Closed Pod Vape Starter Kit. The Palm Fit 2.0 is an open pod system that features an upgraded 650mAh battery capacity that can help you stay powered throughout the day. It comes in a unique pocket-sized design and is made of premium stainless steel.
The Palm Fit 2.0 is equipped with refillable pods that will allow you to open doors to unlimited vape flavours and nicotine options. Although it is equipped with refillable pods, it can also be used with pre-filled replacement pods that are convenient, hassle-free & mess-free (pre-filled pods also come in a range of amazing premium flavours).
What is an open pod system?
An open pod system like Palm Fit 2.0 is an ultra-compact and lightweight vaping device that uses refillable pods that are designed for vapers on the go! Refillable pods give you flexibility and freedom to choose from a wide range of vape flavours and nicotine options on the market to satisfy your cravings. Once you fill the pod with your desired Nicotine Salt E-liquids, you can simply insert it back into your device and start vaping. Each pod can be refilled multiple times before needing to be replaced.
Reasons to choose Palm Fit 2.0 Vape Pod System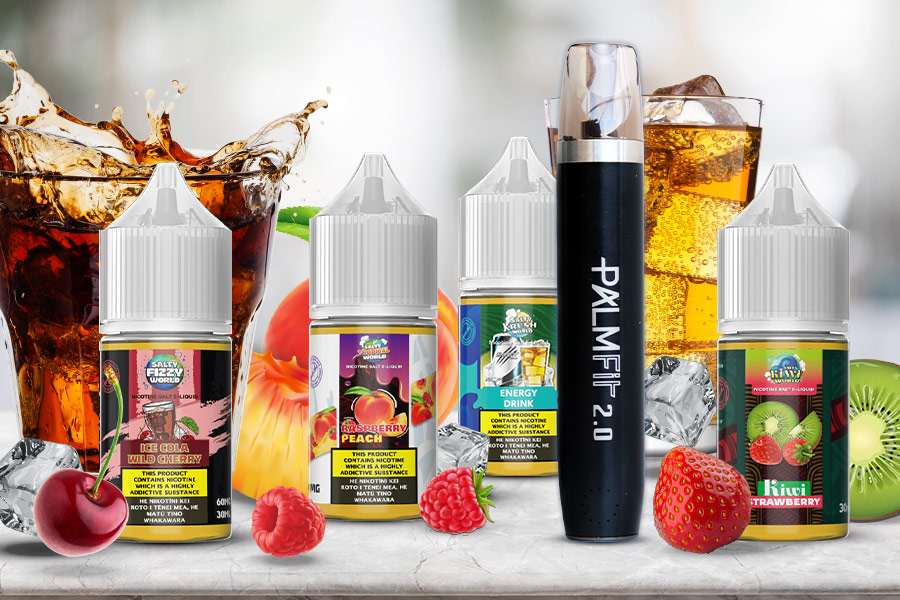 Freedom to vape flavours and nicotine strength
There are many benefits of using the Palm Fit 2.0 - open pod vape device, the first would be unlimited flavours to choose from and the second benefit would be the ability to change the nicotine strengths. Since the pods are refillable, you can gradually lower your nicotine at your own pace and eventually go nicotine-free and quit vaping altogether.
Backward compatibility
Palm Fit 2.0 is considered an open pod that is equipped with refillable pods but at the same time, it's also compatible with the Palm Fit 1.0 pre-filled replacement pods. You can simply use an adapter (comes with the kit) and snap in a pre-filled pod easily with a magnetic pod port and vape on the go. This vape pod offers convenience from the inside out.
Discrete compact design
Palm Fit 2.0 embraces an elegant and sleek design in black colour. It's just 9cm in length (refillable pod equipped). The small size and roll-up shape not only mimic a cigarette that smokers are mostly accustomed to but also make Palm Fit a discreet vape kit that can be used anywhere.
Easy to use
Palm Fit can't be simpler to use. Designed without any button or any complicated menu to navigate, you only need to fill your favourite e-liquid into the pod or place a pre-filled pod in the battery and vape whenever you want. The Palm Fit 2.0 also comes with the new magnetic port which makes changing the pods super easy and it is strong enough to hold your pod in place with very little movement.
Safe performance
Integrating multiple safety protections and smart charging technology, Palm Fit ensures a safe and top-class experience unmatched by any other vaping pod kit on the market.
Where can I buy flavoured E-liquids for vape pod system?
With an online vape shop and over 110 Shosha specialist vape shop across New Zealand and all registered as a "specialist vape retailer", we offer the full range of E-liquid flavours for customers to choose from, including the vape flavours that will be banned in general stores like diaries, convenience stores, gas stations, and restaurants, etc. The banning of flavoured E-liquids sold at general stores stated in the Smokefree Environments and Regulated Products Vaping Amendment Act will come into force from 11th August 2021.
With Palm Fit 2.0 Vape Pod System, not only will it help you stay smoke-free, but you can trust us in providing vaping products that are safe to use and manufactured to the highest standards.
The most popular Nic Salt E-Liquids for Palm Fit 2.0 Pod Vape Kit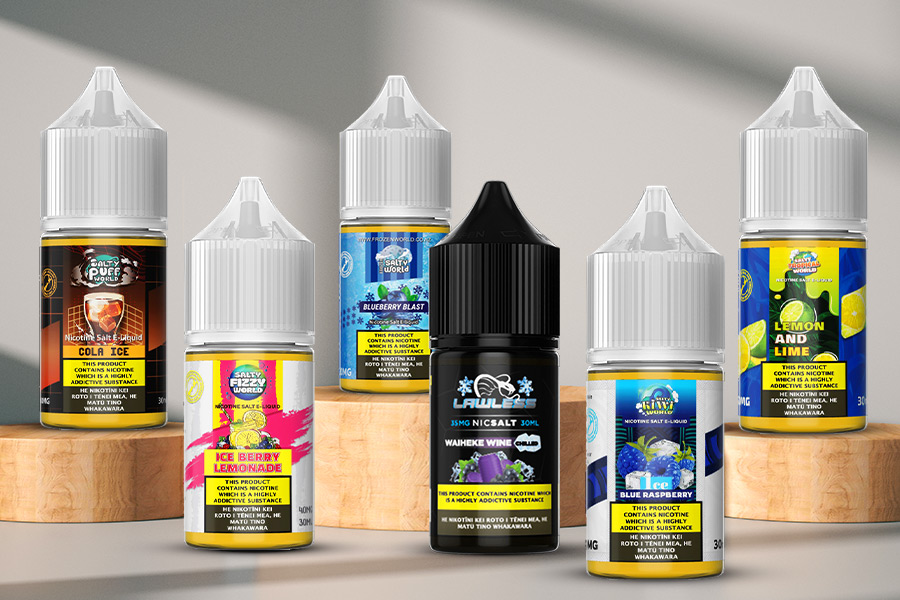 Pair the Palm Fit 2.0 Pod Vape Kit with our most popular Nicotine Salt E-liquids to enhance your vaping experience! We offer the largest range of E-liquids flavours with different nicotine strengths to choose from.
The Salty Tropical World series offers a range of tropical flavours that are perfect blends of fresh fruits for a truly fruity nuance. If you're searching for the best tropical fruit e-liquid flavour then explore Tropical World and let the sweet flavours of exotic fruits send your tastebuds on a trip!
Treat yourself with Kiwi's favourite fruit mixes from Salty Kiwi World. Salty Kiwi World offers a range of unique mixes that will bring the tropics to you! Grab a bottle today and keep your tank brimming with incredible flavours!
Take a drip into the bubbly and carbonated Fizzy World and enjoy the refreshingly sweet, energizing, and vibrant great tasting drink flavours.
Take a trip down memory lane and fantasize about that hot summer and relive your favourite summer memories. With great tasting flavours inspired by summer, you will never want the season to change.
If you're a lover of menthol and delicious flavours, then our Frozen Salty World e-liquid is perfect for you. With a range of great flavours catered for all kinds of vapers, there's definitely something for everybody.
Lawless is a premium e-liquid brand that focuses on only selecting the best flavouring to offer a sophisticated taste while being true and simple.